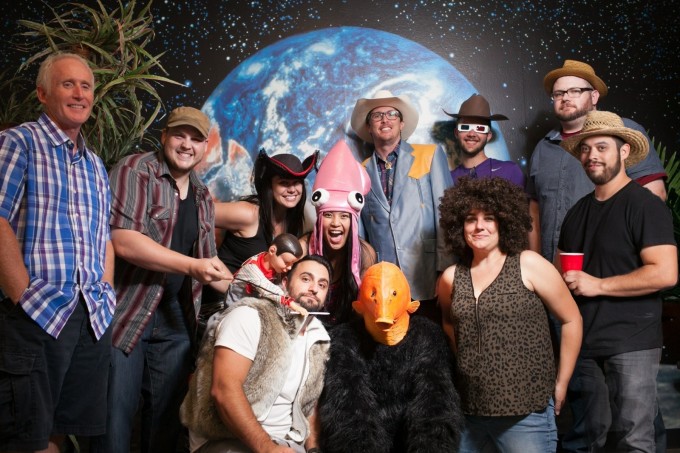 We have ideas.
Windsong Productions makes movies, TV, commercials, and web content. We use video to tell the stories of people, of companies, of products. Whatever your story is, we want to tell it. That's why we're here. We love the whole process — from the moment of an idea's conception to the very final color correction before screening. You provide the inspiration, and we'll provide the creative direction and a full production staff to make your project happen.
We're not just a hired camera — don't get us wrong, we always use the best tools for the job, but we're more than that. We're not defined by our equipment. It's our ideas that make us who we are. We're a creative team of directors, writers, producers, editors, colorists, and animators, all working together to make things that are super cool. "Idea people" and "technical people" don't have to be separate categories. We think the people with the best ideas are the best equipped to execute those ideas. And we think that's us.
Want to know more? Get in touch.
Available Services & Crew
Production
Postproduction

Creative Concept Development
Scriptwriting
Casting
Locations
Props & Costumes
Hair & Makeup
On Location Director & Producer
Filming/Director of Photography
Lighting/Gaffer/Grip
Production Assistant

Postproduction Director & Producer
Editing
Motion Graphics & Animation
Graphic Design
Voiceover (including voice direction)
Color Correction
Audio Recording, Mixing & Sweetening
Music (custom, licensed and royalty-free)
Spot Export/Upload (to distribution system)
Spot Distribution (through distribution system or direct to local stations)
DVD Authoring
Contact us for more info.
Byron Watkins – Partner, Creative Director
Vision – the ability to think about or plan the future with imagination or wisdom
Byron sees things that others don't. His vision isn't limited to the shots he sees; it includes the ability to see an entire story as it will unfold, and then finding the most compelling way to tell it. His ad agency background means he knows how to think on the fly and deliver great video for all of Windsong's projects. Byron is also the host of the Slick Rock Film Festival in Visalia, California, a film festival for middle and high school filmmakers. He's the creator of I Bike Fresno, a campaign that encourages people to ride their bikes in Fresno by focusing on the joy of biking rather than scary safety messages.
Sara Bourbeau – Partner, Head of Production
Oracle – an unfailing authority or guide with complete knowledge, awareness, and understanding
If it happens at Windsong, Sara knows about it. She is Windsong's brain, keeping all the vital functions going and letting us know exactly what we're supposed to be doing at any given time. Besides being a fantastic, all-knowing production manager, Sara's also a great producer. She acts as both a creative sounding board and a field marshal in charge of all a shoot's moving parts. Sara has a degree in business/marketing with a certificate in logistics, but it's her 4.0 grade in Punk Rock & British Pop Music from American International University, Richmond (in London, England) that really sets her apart. Sara dreams of owning a Weimaraner named "Windsong" that she can bring to work.
Joshua Krause – Development/Executive Producer
Hip – aware of or attuned to what's next
Krause improves our street cred. When you've made a critically acclaimed documentary on Lil Wayne like "The Carter," you automatically become the coolest cat in the office. He's a member of the Producers Guild of America, and has trained with NYFA in Los Angeles, San Francisco State University's Cinema Department, and Ithaca College's Los Angeles Communications Program. His work has been seen on Showtime, Fuse, BET, Fusion, The Live Well Network, and Netflix, and screened at SXSW, Stockholm International, and Sundance. At Windsong, Krause has taken the lead in developing projects for TV, film, and web series.
Conlan Spangler – Copywriter
Character – expressing qualities or characteristics that form a distinctive personality
A lot goes into the stories Windsong tells, but none of them would be much of a story without our copywriter Conlan. He puts words in people's mouths, and provides much of the narrative structure for our productions. Conlan joined us after working for years as a freelance copywriter, writing print and online marketing materials, video scripts, newsletters, and everything else. He spends his free time wondering about the meaning of life and/or trying to figure out what makes certain jokes funny.
Joann Hicks – Producer/Production Manager
Spark – a sense of liveliness and excitement; having remarkable energy or force of personality
Whenever Joann walks into a room, she seems 10 feet tall — mostly because of her affinity for super high heels, but also because of the force of her indomitable personality. She uses her degree in mass communication and journalism (with an emphasis in public relations) to ensure Windsong is always putting its best foot forward. As a producer, she's overseen the creation of some of our biggest projects. When she isn't busy with all that, Jo loves spending time with her husband and her adorable godchildren.
Haley White – Producer/Casting Director
Vital – absolutely necessary or important; indispensable
Haley brings years of varied experience to her job as producer and casting director. Before joining us, Haley worked as a writer and editor, creating supplemental education materials and videos for students and teachers. She also does cool things in the theater scene. As a past member of several theater groups, Haley has played a bunch of different roles, so it makes sense that she so effortlessly performs the many parts of a production: casting, locations, props, logistics, you name it. Haley can make it happen.
Tony Bennett – Senior Editor
Witness – a person who attests to the genuineness of an event while adding one's own signature
Tony is a gifted storyteller. One of Windsong's greatest assets is Tony's ability to take individual clips and string them together into something greater than the individual parts. Tony is a graduate of Brown Institute of Broadcasting, and brings over 25 years of video experience to his work as our senior editor. Everything he touches benefits from his style, experience, and creativity. When Tony isn't editing video, he spends as much time as humanly possible with his wife, daughter, and two sons.
Jeremiah Belt – Lead Colorist/Motion Graphics Artist
Kinetic – pertaining to, or caused by, motion; characterized by movement
Jeremiah uses the power of his mind (and his computer) to make things move (and look pretty). As lead colorist, he makes sure every hue, shade, tint and tone of our productions look accurate, whether they're broadcast on TV or projected on a silver screen. The other half of Jeremiah's job involves telling all the bits on a screen where to go in fully animated spots or making text and images interact with live action. Jeremiah honed his skills over the years working for ad agencies, broadcast networks and freelance before we snatched him up. When he's not playing with shapes and colors, Jeremiah likes eating food, foodie-style, with his wife Sarah.
Kyle Gentz – Editor/Director of Photography/Colorist
Wizard – a person with magical powers; one who has amazing skill
When it comes to video, Kyle can do it all — shoot, edit, color, graphics. Kyle sprinkles his magic dust on whatever he's working on and instantly makes it awesome. It's a little spooky, actually. His work has even been accepted into the Cannes Film Festival. When Kyle isn't bringing stories to life at Windsong, he likes working on his own film projects. And when he's not doing that, he's spending time with his wife and two sons.
Scott Coulter – Editor/Producer
Right Hand – an extremely efficient and dependable person
Scotty's the guy you want in your corner when you need to transform a giant pile of video footage into a coherent story fast. His diverse skill set means he's had a hand in just about every aspect of our productions. Whether it's editing, audio recording, archiving footage, or Fushigi Magic Gravity Ball demonstrations, Scotty always makes magic happen. He started editing in high school at the Center for Advanced Research and Technology (CART) and has continued to hone his craft ever since. He's also a lifelong Seattle Mariners fan — so you know he knows a thing or two about dedication.
 
Dave Werner – Assistant Editor/Backup & Data Manager
Mentalist – a person who performs feats that seem to demonstrate supernatural mental powers
Every bit of video that comes into Windsong Productions goes through Dave. He gets into the mind of the footage — cutting, archiving, and bending it to his will. It makes sense that he's got a degree in psychology. He's also spent years filming and editing, which made him a familiar face around Windsong even before he officially joined the team. When he's not editing video, psychoanalyzing coworkers, or discovering new cool music, Dave likes folding paper into shapes. He calls it "origami," but that sounds like a made-up term to us.
 
Ashlyn Walker – Production Coordinator
Master – a skilled practitioner of a particular activity
Ashlyn is a master of daily business operations. She's responsible for Windsong's accounts payable department and making sure the office runs smoothly. Prior to joining Windsong, Ashlyn conquered a variety of other industries, gaining experience in business and client management, financial securities, information technology, administration, and production coordination. Ashlyn's got an MBA from Fresno State and, in her spare time, she volunteers for her church in the confirmation ministry and is a member of the Young Adults Group.